WARNING!
Information and products presented herein are not intended to diagnose, treat, cure, or prevent disease.
If you have any concerns about your own health, you should always consult with a Doctor or healthcare professional.
FISH
Almond Crusted Fish
Servings: Makes 16 servings.
Preparation Time:10 minutes
Cook Time:15 minutes
Almonds add nutty crunch and flavor to crusted fish fillets. With or without almonds
Ingredients:
1 cup Garlic, Lemon & Rosemary Parmesan Blended
Splash of olive oil
1 Tbsp. Unsalted Butter, softened
4 Tbsp. honey
1-2 Tbsp. parsley, minced
4 Tbsp. orange juice
1/3 cup toasted breadcrumbs
1 cup finely chopped almonds
4 lb. cod or salmon fillet
Directions:
Preheat oven to 450°F.
Combine butter, garlic, cheese, olive oil, parsley, chive and seasonings.
Season cod with salt and pepper. Heat olive oil in sauté pan. Put fish in the pan and brown on one side, flip over,
and spread butter- cheese spread onto the fish. Sprinkle breadcrumbs over the top and place in the heated oven.
Cook for approximately 4-5 min. or until heated through and firm to the touch. Remove from the oven and serve.
HAM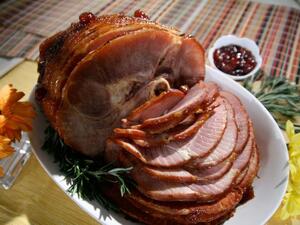 Baked Ham with Spiced Cherry Glaze
Level: Easy
Total: 1 hr 40 min
Prep: 10 min
Inactive: 10 min
Cook: 1 hr 20 min
Yield: 8 servings, 1 cup glaze
Ingredients:
1 (5-pound) boneless ready-to-eat ham
1/2 cup water or white wine
1 cup cherry preserves
1 tablespoon prepared horseradish (creamy)
1 tablespoon packed light brown sugar
1/2 teaspoon ground cinnamon
1/2 teaspoon ground cumin
1/4 teaspoon ground cardamom
1/4 teaspoon salt
1 lemon, zested and juiced
Directions:
Preheat the oven to 350 degrees F. Line a roasting pan with foil and spray it with nonstick spray.
Score the top and sides of the ham with a small sharp knife in a crisscross pattern. Put the ham in the pan, pour 1/2 cup water or white wine into the bottom of the pan and bake, covered loosely with a tent of foil, 45 to 60 minutes.
To make the glaze, combine the preserves, horseradish, brown sugar, cinnamon, cumin, cardamom, salt, and lemon juice in a medium bowl. Transfer the cherry mixture to a small saucepan and bring to a boil over medium heat. Boil until the glaze is slightly thickened, 2 to 3 minutes.
Remove from the heat; stir in the lemon zest. Remove the ham from the oven and brush the top with 1/4 cup of the glaze. Bake, uncovered, until the ham is hot and an instant-read thermometer inserted into the center registers 140 degrees F, about 20 minutes longer. Remove the ham from the oven to a cutting board and let stand 10 minutes before slicing. Arrange the sliced ham on a serving platter and serve with the reserved glaze.
Read more at: Foodnetwork.com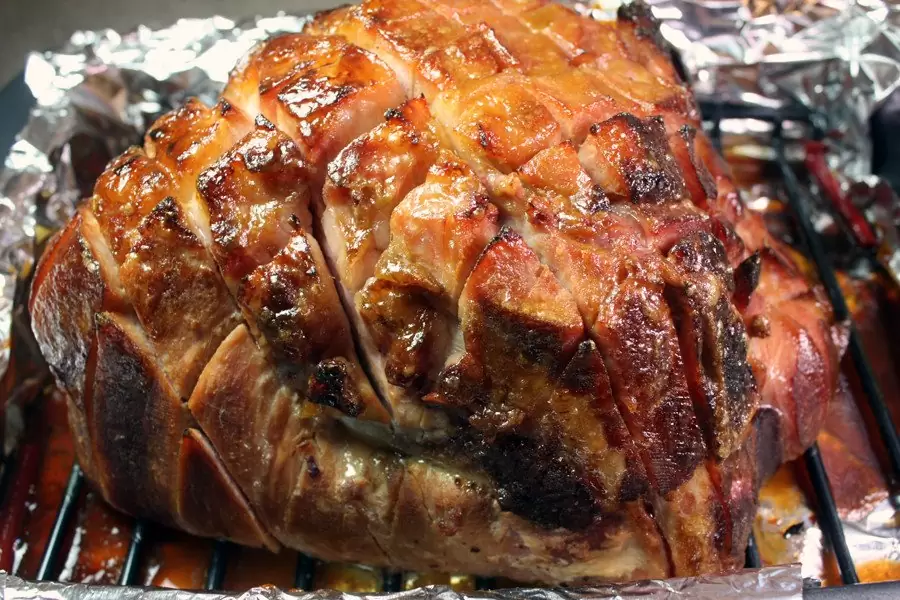 Baked Ham with Brown Sugar Mustard Glaze
Total: 2 hr 25 min
Prep: 10 min
Cook: 2 hr 15 min
Yield: 12 servings with leftovers
Ingredients:
1 (12-pound) shankless skinless smoked cured ham
Whole cloves for studding ham
1 cup firmly packed light brown sugar
1/4 cup prepared mustard
2 tablespoons cider vinegar
Variation: GLAZED HAM STEAK WITH BROWN SUGAR MUSTARD GLAZE
Ingredients:
1 to 2-inch Ham Steak
1/2 teaspoon ground cloves
1 cup firmly packed light brown sugar
1/4 cup prepared mustard
2 tablespoons cider vinegar
Directions:
Preheat oven to 350 degrees Score top of ham into diamonds and stud center of each diamond with a clove.
Place ham on a rack in a roasting pan and bake for 1 1/2 hours.
In a bowl combine the sugar, mustard and vinegar and spread glaze evenly over ham.
Bake for another 35 minutes Transfer ham to a platter and let stand 15 minutes before carving.
Preheat oven to 350 degrees Combine cloves, sugar and mustard and brush over Ham Steak.
Bake in baking dish in 350 degree oven for 15 minutes until heated through.
Read more at: Foodnetwork.com